"Tell me about a museum!" ": the festival of museums in the Pays de Haguenau
For the third time, the 4 museums of the Agglomeration Community of Haguenau (Bischwiller, Brumath, Haguenau and Val-de-Moder) have come together to offer you a an international festival among the museums of the territory entitled "Tell me about a museum".
Mediafixer Sundays fortnightly until July 23, animations on the theme of wood and forest will be presented to you. Come and discover this raw material very present in our daily lives through shows, walks tales and guided tours !
So don't miss the Sunday June 11 at 10:30 a.m. in Brumath the show " Tales from the World Tree » by the company ABOUDBRAS. Explore the universe of trees through tales et legends !
Meet at archaeological Museum, Courtyard of the Castle in Brumath. Sure registration at 03 88 51 02 04. FREE ENTRANCE.
Le Sunday June 25 from 15 p.m. to 18 p.m. in Bischwiller, come and learn the technique of daub, Ancient technical de traditional construction, to build small huts with Philippe Lamothe, craftsman of theeco-renovation.

See you at the House of the Arts, 19 rue des Charrons in Bischwiller. FREE ENTRANCE.
Le Sunday July 9 at 15 p.m. in Val-de-Moder, discover the Popular Image Museum during a storytelling walk in Alsatian with the mascots Hafele & Storichele. titled " from Eweràschùng vùm Eiche, the surprise of the oak ", this romanticized visit will take you to four places in the museum corresponding to a season and at a artwork. The +: the children will receive a booklet of coloring theme where they can paste the Indices !
Meet at Popular Image Museum, 24 rue du Dr Albert Schweitzer in Pfaffenhoffen, Val de Moder. On registration au 03 88 07 80 05 or by email to musee@commune-valdemoder.fr.
Finally, the Sunday July 23 from 10 a.m. in Haguenau, take part in a original visit du Historical museum with Catherine Javaloyes full "Le Talon rouge" company ! Through a selection of ancient texts et contemporary, you will be invited to (re-)discover the collections of the museum thanks to her director's gaze, supplemented by a exposure designed for the occasion paintings made by thecontemporary artist Brice d'Andlau.
Meet at Historical Museum, 9 rue du Maréchal Foch in Haguenau. FREE ENTRANCE.
Animations, accessible from 6 years, will close around a friendship Glass. At the end of 3 entries, a surprise will be offered to you as thanks !
Article written by:
the Tourist Office
of the Land of Haguenau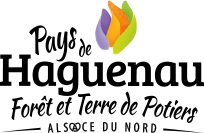 The team of the tourist office is at your disposal to help you prepare your stay in the Land of Haguenau or to suggest activities during your holidays. Come and discover an authentic territory with its crafts, its forests, its Alsatian traditions ...