Our tips for cooling off!
Hot days are here and you may be wondering where to find a little cooler. Here are our tips for getting through the heatwave and even making it a pleasant one!
Swimming pools and bodies of water
Bathing appears to be the ideal solution for cooling off.
The outdoor swimming pools of Haguenau et Bischwiller are great places to take a dip.
Many bodies of water exist in Alsace and allow you to swim as well as have a good time on the beach. Among them, we recommend: the lake of the Hardt in Brumath, the Mouettes beach in Lauterbourg, the Le Staedly lake at Rœschwoog.
Be sure to inform yourself well beforehand because health instructions must be respected and slots with reservation can be set up.
An "active" bath of freshness
Fancy some adventure? Embark aboard a canoe and sail along the Moder. Departures are possible from Drusenheim, contact H20passion for more information.
Another adventure, to say the least original, awaits you in Lauterbourg. Alsa Surf invites you to discover electric surfing. Close your eyes, and you are transported to the heart of the Pacific Ocean.
In the shade of the forest
The Haguenau forest is now an Exceptional Forest®. Discover or rediscover this forest by surveying its shaded paths. Whether on foot or by bike, there are many possibilities available to you. Get the hiking sheets and the walking map at the tourist office.
A gourmet and frozen break
Take a well-deserved break and do not hesitate to enjoy an ice cream on the terrace of the Cafe Max By Chloé (8 place of arms). Just on the other side of this terrace in front of the Alsatian Museum, slip under the fogger. Refreshment guaranteed!
For a colorful break, sit on the terrace of the Boudoir, to enjoy a cocktail of a thousand colors!
Article written by:
the Tourist Office
of the Land of Haguenau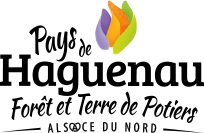 The team of the tourist office is at your disposal to help you prepare your stay in the Land of Haguenau or to suggest activities during your holidays. Come and discover an authentic territory with its crafts, its forests, its Alsatian traditions ...