Our health courses
Many of you practice an outdoor sport activity, and many ask us for recommendations for fitness trails. In this article, find a selection of infrastructures and a beautiful video to inspire you and make you want to join our Exception® forest.
Departing from the emblematic site of Great Oak (Schwabwiller road), take this 2 km route, dotted with all kinds of equipment that will require you to cross a series of obstacles, ideal for sports. Intended for athletes who will do the loop several times, this route is also suitable for families and children who will imagine any type of playful activity. The course of the heart meanwhile, takes you over 6 km through different stands of hardwood and softwood offering you a total change of scenery near the Gros Chêne site, highly recommended for Nordic's walk.
Other sports and health routes around Haguenau
Take to the air in the forest and take the Soufflenheim fitness trail. The departure is near the tennis club and offers 17 approved over 2 km. This mostly flat land runs alongside the the Eberbach.
In Schweighouse / Moder, still in the middle of the forest, head towards 79A, road to Wintershouse to start. The poultry center car park makes it easy to park your vehicle. On site, there are wooden tables and benches to sit down and have a snack, a multisport field and some children's play elements. You have the choice between 2 distances (green arrow = 1920 m / red arrow = 2795 m). The path is regular, well marked and flat. 17 apparatus of very good quality give access to walkers, children, beginners and experienced athletes.
Other routes exist on our territory as for example in Pfaffenhoffen, Schirrhein, Brumath, Oberhoffen / Moder ... do not hesitate to come and inform yourself at the Tourist Office and to download the forest map.
Article written by:
the Tourist Office
of the Land of Haguenau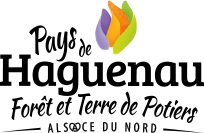 The team of the tourist office is at your disposal to help you prepare your stay in the Land of Haguenau or to suggest activities during your holidays. Come and discover an authentic territory with its crafts, its forests, its Alsatian traditions ...