Summer holidays, outings and guided tours from July 8 to 16
For the second consecutive year, the Pays de Haguenau Tourist Office is taking advantage of the summer season to promote and reveal to visitors, locals and tourists the unusual facets of the territory through its program of visits. Curious, gourmet, culture or nature lovers... We promise, there will be something for everyone!
As for cultural heritage and guided tours...
Visit the new temporary exhibition entitled " A look at Bischwiller which highlights the Architectural Heritage full city ​​of fifes since XIIth century until today. In Haguenau, discover theSt. George's Church and l'Story of this building as well as theevolution of his architecture and masterpieces of great late XV artiststh et early fifteenthth centuries. come More info also the Walbourg Memorial Museum with its authentic objects retracing thecivil history et military of 1870s to 1945. Without forgetting the guided tour du Haguenau Israelite Cemetery ! Did you know: the Hagenau Jewish Cemetery is one of cemeteries most elders of Alsace.
On the side of nature and the forest
Go in search of wonders en Northern Alsace : leaves of lace, leaves of all colors… Come observer le monde of tiny and watch how they work when outputting"Forest litter, a world full of life", as part of the program of exits en forest "Hidden treasures".
As for the sweets…
Enter the largest brewery in Alsace ! In a website fabulous, live a unique experience et playful around manufacturing full beer and the story full Meteor brewery.
Plunge your nose into the raw materials, discover a unique brewing facility et taste 4 galopins of beers with neat flavors to the Les Similars microbrewery !
Finally get started with fun full free picking of blueberries with the guided tour « Discovery around the blueberry "!
On the news side
Imagine… A beach, buckets, shovels, enough to build castles… Without Beach bag ! Your child don't have one yet? So take part in a thematic workshop on the flowers and their symbolic about gutters where each child can customize are tote bag !
Au Hundshof à Haguenau, Christophe will introduce you to the know-how of the past and will offer a real walk in time through the rural life of families of this hamlet during the guided tour "Objects of yesteryear and rural life".
Finally, go to the Garden of Marthe and Pierre, sublime garden of 7 ares associated with Parks & Gardens of Alsace which mainly presents trees and mediterranean plants.
Article written by:
the Tourist Office
of the Land of Haguenau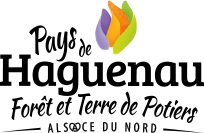 The team of the tourist office is at your disposal to help you prepare your stay in the Land of Haguenau or to suggest activities during your holidays. Come and discover an authentic territory with its crafts, its forests, its Alsatian traditions ...