Summer, outings and guided tours from July 29 to August 05
For the second consecutive year, the Pays de Haguenau Tourist Office is taking advantage of the summer season to promote and reveal to visitors, locals and tourists the unusual facets of the territory through its program of visits. Curious, gourmet, culture or nature lovers... We promise, there will be something for everyone!
As for cultural heritage and guided tours...
plunge in a universe of poetry and grace on entering theMichele's workshop, image artist who creates unique pieces according to canivet technique. The guided tour "the history of the city"Of Bischwiller, offers you 1h to discover the cultural heritage. and history of this city. Enter the synagogue erected in 1820, adorned with pilaster facade, of his entablature and its pediment revealing the features of classicism. Make More info at your child or on a playful la weaving technique by making a small decoration on the looms. Benefit from a privileged access to the heritage collection full media library of Haguenau ! Enjoy by promenade au North of Alsace almost motionless around a place with a picturesque name, Surrounded by iconic buildings from the city.
On the side of nature and the forest...
Get started with forest bathing ! Reconnect to the nature and get to know the benefits of trees in the heart of the Forest of Exception® by participating in a forest bath. Have you ever heard the name " Baeckeoffe "" Kougelhopf on Alsace ? Let's find out together the icehouse from where the artisan potters de Soufflenheim extract theclay which will be used to shape the famous mussels in Kougelhopf and other Terrines in Baeckeoffe !
As for the sweets…
Who says sweetness and pampering, says gluttony ! Attend theplant-based cooking workshop without cooking to the Wehrling pottery & daughter à Soufflenheim, in partnership with Bring back your Quetsche. Your microbrewery du North of Alsace offers you a production of quality beers, consumables on site in a friendly place.
On the news side...
Go to meet trunk makers Marie and Jean-Philippe Rolland, which will make you More info their restoration workshop and creation of trunks as well as baggage treasures between 1850 et 1960. Head to niedermodern for explanatory visit of the brewing process, followed by a tasting in the adjoining pubproduction spacenot. Here in Alsace, visit the Historical Museum accompanied by a which will address some aspects of thehistory of Haguenau between Middle ages et 18th century. THE mill lab you enthusiastically welcomes to give you an overview of wonders of fermentation ! After one tour of our facilities, pass a pleasant moment together around a glass of kefir. come explore the secrets of the Grand Organ with the master of Chapel Mr. Antoine Bender and his son Marc ! Sublimate them gardens ! A garden english romantic and a garden Contemporaneous which revolves around a large geometric basin.
Article written by:
the Tourist Office
of the Land of Haguenau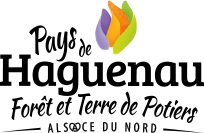 The team of the tourist office is at your disposal to help you prepare your stay in the Land of Haguenau or to suggest activities during your holidays. Come and discover an authentic territory with its crafts, its forests, its Alsatian traditions ...