Summer holidays, outings and guided tours from August 26 to September 2
For the second consecutive year, the Pays de Haguenau Tourist Office is taking advantage of the summer season to promote and reveal to visitors, locals and tourists the unusual facets of northern Alsace through its program of visits. Curious, gourmet, culture or nature lovers... We promise, there will be something for everyone!
As for cultural heritage and guided tours...
Enjoy a moment of immersion in a pottery workshop in charge ofstories à Soufflenheim to transform the clay material in a everyday object. Visit in the North of Alsace, one of last rural remains dating fromGolden age of the hop cultivation who made the fame of Haguenau (COMPLETE). Go to the discovery a few secrets well kept from Historical Museum de Haguenau (COMPLETE)! Immerse yourself between the luggage, adventures and discoveries, fast or long trips, between theHistory and l'history of men. Leave the guides tell you the secrets of the trunks et other baggage…Go back in time in the city of fifes with actors from the Deux Axes troupe ! There theatrical visit "Life in Tiefenthal" will bring you back to life pedagogical way et humorous the glorious episodes in the history of Bischwiller. Discover the Marienthal Basilica through his secrets under the leadership of Mr Philippe Fleck.
On the side of nature and the forest...
Log out in a Safe Haven and biodiversity created from scratch: theArch of Biodiversity, arboretum lost in the heart of forest implanted in the middle of the fields, was planted by the hands of Jean Louis Amann who has seen him grow since 30 years. He will share you passion and will guide you through 1h30. Time for an afternoon, come More info logging trades en real conditions ! An exit to nightfall ? Animated by a specialist, your night eye will let you know more about bats !
As for the sweets…
The Uberach Brewery opens its doors to you, here, in Alsace ! Share the raw materials, beer making process as well as the visit of the facilities followed by a tasting of brewery products.
Article written by:
the Tourist Office
of the Land of Haguenau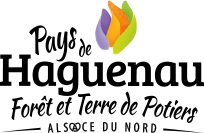 The team of the tourist office is at your disposal to help you prepare your stay in the Land of Haguenau or to suggest activities during your holidays. Come and discover an authentic territory with its crafts, its forests, its Alsatian traditions ...