Summer holidays, outings and guided tours from July 22 to 29
For the second consecutive year, the Pays de Haguenau Tourist Office is taking advantage of the summer season to promote and reveal to visitors, locals and tourists the unusual facets of northern Alsace through its program of visits. Curious, gourmet, culture or nature lovers... We promise, there will be something for everyone!
As for cultural heritage and guided tours...
Discover la imperial city of Haguenau. as Alsace, here east there fortress built in 1115 by Frederic le Borgne, father of Barberousse (Barbarossa).
Dive into a universe of poetry and grace on entering theMichele's workshop, image artist who creates unique pieces according to canivet technique.
Go back in time in the city ​​of fifes with the actors of Troop of the Two Axes ! There dramatized visit "Once upon a time... Life in Tiefenthal" will bring you back to life pedagogic et humorous the glorious episodes from the history of Bischwiller.
Also come and discover the Walbourg Memorial Museum with its authentic objects retracing thecivil and military history in years 1870-1945.
On the side of nature and the forest...
Get started with forest therapy ! Reconnect to nature and get to know the benefits of trees in the Exceptional Forest® by participating in a forest bath.
As for the sweets…
Enter the biggest Alsatian brewery ! In a fabulous site, live a unique experience et playful around beer making and thehistory of the Meteor brewery.
A wine tasting, does that tell you? Meet at the Cleebourg cellar to participate in visits to the cellars en tasting good wines of the'Northern Alsace !
On the news side...
come extract, savor et to condition du miel at a Haguenovian beekeeper.
Discover the website of the Protestant Sonnenhof Foundation and visit the museum.
Do you want to understand the women's life course in L'Story from the city ? Know the role often unappreciated what did they play? Take part in the guided tour "The Women of Haguenau" !
Finally, explore the garden of 7 ares associated with Parks & Gardens of Alsace which presents trees and mediterranean plants.
Article written by:
the Tourist Office
of the Land of Haguenau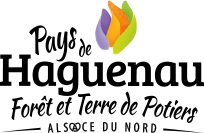 The team of the tourist office is at your disposal to help you prepare your stay in the Land of Haguenau or to suggest activities during your holidays. Come and discover an authentic territory with its crafts, its forests, its Alsatian traditions ...