Summer holidays, outings and guided tours from July 1 to 8
For the second consecutive year, the Pays de Haguenau Tourist Office is taking advantage of the summer season to promote and reveal to visitors, locals and tourists the unusual facets of the territory through its program of visits. Curious, gourmet, culture or nature lovers... We promise, there will be something for everyone!
As for cultural heritage and guided tours...
Place athumor ! The Luggage museum comes alive during a dramatized visit du Two Axes Theater at the heart of the show " Baggage Secrets ". Get an overview of the gallo-roman life through the presentation ofeveryday objects, D 'architectural elements, funeral rites and thecrafts of the ancient brocomagus by Brumath Archaeological Museum. A craving forapprendre ? Put yourself on the traces of Claude Vigée, theécrivain of poems recognized internationally and native of Bischwiller by attending the Guided tour of the city. The volunteer guides Uhlwiller Bread Museum will share their knowledge on bread making. Discover the Basilica of Marienthal through his secrets under the leadership of Mr Philippe Fleck. Finally come visit the manufacture et discover its secrets in the company of the master of the place, Quentin Blumenroeder, unique organ builder en Northern Alsace.
On the side of nature and the forest...
Come do More info to your children Undivided Forest of Haguenau the time of one pony ride.
As for the sweets…
La Uberach brewery opens its doors to you! Discover the raw materials, manufacturing process of his Alsatian beer as well as the visit of the facilities followed by a tasting of brewery products. A wine tasting, does that tell you? Meet at the Cleebourg cellar, theunique wine cellar located at north of the Alsace Wine Route to participate in visits to the cellars en tasting the good wines of Cleebourg !
On the news side...
Browse the selection station and D'queen rearing and drone with the visit The apiary and its environment » proposed by theassociation of beekeepers of Haguenau ! Attend the guided tour "The metamorphoses of the station and its surroundings" which traces thehistory of the 4 successive stations of Haguenau, park and some nearby buildings. The history around our stations is traced by Marie-Antoinette Klein of the Society of History and Archeology of Haguenau. Rhythm your promenade in the romantic garden "Farandole for the curious"to inspire english countryside. On the side of solidarity tourism, What's new this year in north Alsace ! Take part in a visit to the educational farm preceded byan outdoor visit from the website of Protestant Sonnenhof Foundation.
Article written by:
the Tourist Office
of the Land of Haguenau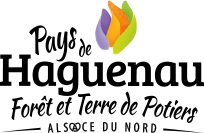 The team of the tourist office is at your disposal to help you prepare your stay in the Land of Haguenau or to suggest activities during your holidays. Come and discover an authentic territory with its crafts, its forests, its Alsatian traditions ...