Summer holidays, outings and guided tours from August 19 to 26
For the second consecutive year, the Pays de Haguenau Tourist Office is taking advantage of the summer season to promote and reveal to visitors, locals and tourists the unusual facets of northern Alsace through its program of visits. Curious, gourmet, culture or nature lovers... We promise, there will be something for everyone!
As for cultural heritage and guided tours...
Let yourself guides, by Jean-Louis to understand the Judaism funeral rites. Jean-Louis will introduce you to fallen down dating from XNUMXth century to today. The guided tour "the history of the city" de Bischwiller, offers you in 1 hour to discover the heritage and history of this city. Immerse yourself in a pottery, or you will discover un ancestral know-how and its different manufacturing steps ! come More info also the Walbourg Memorial Museum with its authentic objects retracing thecivil and military history about 1870s – 1945. Discover the Marienthal Basilica through his secrets under the leadership of Mr Philippe Fleck.
On the side of nature and the forest...
Get started with forest bathing ! Reconnect to the nature and get to know the benefits of trees in the heart of the Forest of Exception® by participating in a forest bath.
As for the sweets…
Enter the largest Alsatian brasserie ! In a fabulous site, live a unique experience et playful around beer making and theStory full Meteor brewery.
On the news side...
Discover theKrigsheim church with a overview of the church, a presentation of stained glass and presentation of the way of the cross. The mill lab welcome you with enthusiasm to give you an overview of wonders of fermentation ! After one tour of their facilities, pass a pleasant moment together around a glass of kefir. In the North of Alsace in Val de Moder, get started with Popular Image Museum and Emotions Laboratory by participating in a olfactory guided tour !
Article written by:
the Tourist Office
of the Land of Haguenau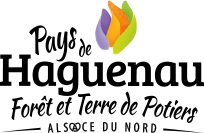 The team of the tourist office is at your disposal to help you prepare your stay in the Land of Haguenau or to suggest activities during your holidays. Come and discover an authentic territory with its crafts, its forests, its Alsatian traditions ...