Summer holidays, outings and guided tours from July 18 to 23
For the second consecutive year, the Pays de Haguenau Tourist Office is taking advantage of the summer season to promote and reveal to visitors, locals and tourists the unusual facets of the territory through its program of visits. Curious, gourmet, culture or nature lovers... We promise, there will be something for everyone!
As for cultural heritage and guided tours...
Mediafixer volunteer guides du Uhlwiller Bread Museum you will share their knowledge of the bread making. Go to the discovery full Pretzel factory ! You will be able enjoy an tasting of our products at the end of their journey in our Friendly Pretzel Bar, before entering our exclusive shop. Take part in the guided tour of XNUMXth century buildings which house a old flour mill au North of Alsace. Benefit from a privileged access to the heritage collection of the media library of Haguenau ! Discover the Marienthal Basilica through his secrets under the leadership of Mr Philippe Fleck.
On the side of nature and the forest...
Have you ever heard the name " Baeckeoffe "" Kougelhopf on Alsace ? Let's find out together the icehouse from where the artisan potters de Soufflenheim extract theclay which will be used to shape the famous mussels in Kougelhopf and other Terrines in Baeckeoffe !
As for the sweets…
La Uberach brewery opens its doors to you, here, in Alsace ! Share the raw materials, the process of beer making as well as the visit of the facilities followed by a product tasting full brasserie.
On the news side...
THEESAT (Establishment and service of assistance through work) presents its association and shows you around production workshops and its restaurant by disabled worker. The mill lab welcome you with enthusiasm to give you an overview of wonders of fermentation ! After one tour of our facilities, pass a pleasant moment together around a glass of kefir. Imagine the waste produced by the inhabitants of part of theNorthern Alsace… You are probably wondering about questions on the type of waste? Get started ! What waste are cremated? How are they converted into energy ? You will find all your responses. The hundreds of garrison horses de Haguenau asked to be trained. During a country walk, you will define what the Galoppweg. Take this path to reach the source of the Zeltenbaechel, then follow its course which will lead you to Imperial pond !

Article written by:
the Tourist Office
of the Land of Haguenau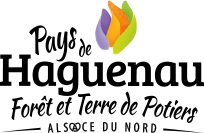 The team of the tourist office is at your disposal to help you prepare your stay in the Land of Haguenau or to suggest activities during your holidays. Come and discover an authentic territory with its crafts, its forests, its Alsatian traditions ...