Summer holidays, outings and guided tours from August 12 to 19
For the second consecutive year, the Pays de Haguenau Tourist Office is taking advantage of the summer season to promote and reveal to visitors, locals and tourists the unusual facets of northern Alsace through its program of visits. Curious, gourmet, culture or nature lovers... We promise, there will be something for everyone!
As for cultural heritage and guided tours...
come visit the manufacture and discover its secrets in the company of master of the place, Quentin Blumenroeder, unique organ builder en Northern Alsace (FULL). Give life to your children a extraordinary and playful adventure ! Go to the discovery of hidden secrets de Haguenau in the company ofAthena and her playbook. A craving forapprendre ? Follow in the footsteps of Claude Vigee, thepoem writer internationally recognized and native of Bischwiller by attending the Guided tour of the city. Immerse yourself between the luggage, adventures and discoveries, fast or long trips, between theHistory and l'history of men. Leave them guides tell you the secrets of the trunks and other baggage…Visit The Pretzel Factory located at North of Alsace in Gundershoffen ! You can enjoy a tasting of our products at the end of the journey our friendly Bretzel Bar, before discovering our exclusive shop. A particular desire visits ? The Adam Farm presents you his cattle breeding. This visit to theexploitation and milking cows to the processing workshops, will be followed by presentation of the biogas plant.
As for the sweets…
The Uberach Brewery opens its doors to you, here, in Alsace ! Share the raw materials, the process of beer making as well as the visit of the facilities followed by a tasting of brewery products. A wine tasting, does that tell you? Meet at the Cleebourg cellar to participate in visits to the cellars while tasting the good wines from Cleebourg !
On the news side...
Attend a distillation demonstration workshop where Nicolas explains the distillation process With l'Oberhoffen-sur-Moder Cru Bouilleurs Association. imagine waste produced by the inhabitants of part of theNorthern Alsace… You are probably wondering about the type of waste ? Get started! What waste is incinerated ? How are they recovered in energy ? You will find all your responses.
Article written by:
the Tourist Office
of the Land of Haguenau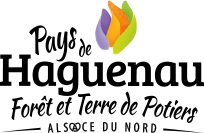 The team of the tourist office is at your disposal to help you prepare your stay in the Land of Haguenau or to suggest activities during your holidays. Come and discover an authentic territory with its crafts, its forests, its Alsatian traditions ...