The new Baggage Museum in Haguenau
A new collection ...
200 parts, exceptional pieces, unique pieces, unusual pieces, intriguing or innovative pieces. The new scenography finally makes it possible to find all the rich and abundant collection of Marie and Jean-Philippe Rolland. The Museum offers a real immersion between luggage, adventures and discoveries, rapid or long journeys, between History and the history of men.
The spirit of the exhibition, imagined by the Cynara Studio, wants to be close to that of an Alibaba cave; where mingle and tangle the wooden and metal chests, leather trunks and precious wood travel kits.
Little by little, the visitor walks through the spaces presenting the modes of transport between the stagecoach, the train, the car and the liners as well as the evolutions of shapes and materials used for the manufacture of the trunks. We also discuss the human aspect behind every piece of luggage. Whether you are an artist, explorer, soldier, Sunday walker or a wealthy person, the baggage adapts to the needs of man and accompanies him in his daily life and his discoveries.
Packing trunks is everything an art which can be learned and tamed over time if you do not want to find yourself in difficulty when traveling. A space presents the major brands of trunk maker, between Vuitton and its famous monogram, Goyard, Moynat ...
Last but not least, a new space was created and reproduced the trunk maker workshop where we discover tools (planer, saw, chignole, cookie cutters…) and materials such as leather, wicker, metals, textiles and different woods.
The Baggage Museum, warm and immersive, seduces the local public as well as those who are passionate about crafts and luxury as well as collectors.
Discovery in pictures
Article written by:
the Tourist Office
of the Land of Haguenau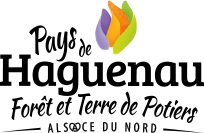 The team of the tourist office is at your disposal to help you prepare your stay in the Land of Haguenau or to suggest activities during your holidays. Come and discover an authentic territory with its crafts, its forests, its Alsatian traditions ...