It's the holidays in the Pays de Haguenau!
The All Saints' Day school holidays are fast approaching and with them, two weeks of well-deserved rest for the children. The Tourist Office has selected some ideas for activities with its partners for families to take advantage of the autumn that is setting in... From Bischwiller to Val-de-Moder, the Pays de Haguenau offers you the embarrassment of choice !
Idea #1: Immerse yourself in an Exceptional Forest® by Haguenau
Take a breath of fresh air in the open nature, nothing better for recharge your batteriess while contemplating the flamboyant colors of autumn. Three releases from the program " Hidden treasures of the undivided forest of Haguenau » will be offered during the School vacation.
Our heart stroke : participate Sunday 29 October au nature project to restore forest ponds. A original activity which can be extended by a gourmet break withGros-Chêne Inn and toute friendliness.
Idea #2: Leave room for creativity
Mediafixer Tilt network media libraries will welcome the young artists for creative workshops With lillustrator Amandine Leprun, Friday October 27 in Haguenau and Saturday October 28 in Brumath. Another idea : at Safe Haven associative café in Haguenau, take part in collaborative workshops et intergenerational (ceramics, sewing, fall cupcakes, etc.). THE samedi 21 octobre, it is at the Millennium Hall in Haguenau that will take place colorful evening et rich in emotions, with the show "Young Talents, now is the time". singing, dance, Music courses, magic, humor… About ten of candidates aged 8 to 25 will have the chance to perform on scene for grand finale and count on your soutien !
Idea #3: Have fun, let off steam... Inside and out!
For apprendre to know better the territory while having fun, budding detectives will appreciate solve the puzzles who are waiting for them Val de Moder, Bischwiller, Brumath and Haguenau (downtown et forest) with the fun walks, whose game booklets are available atTourist Office. Most adventurers, whether they be lovers ou outstanding climbers, will know how to have fun on the nine treetop courses in the trees of Brumath Fun Park, until the end of October. In case of bad weather, is the Nautiland of Haguenau what do you expect from numerous water attractions and entertainment program dedicated to children. Teenagers will not be left out and will be able to exercise Haguenau during a laser game game at Ultra Laser or even with the arcade games full Joker room au Megarex. You are rather looking for a unusual experience ? Get started in in family au ax throwing in the medieval cave of Odin's Ravens – nothing better to immerse yourself in a viking atmosphere. Guaranteed change of scenery !
Find the details of events and l'complete diary of your holiday on www.visithaguenau.alsace/agenda-des-evenements
more info:
Pays de Haguenau tourist office
1 Place Joseph Thierry in Haguenau
03 88 06 59 99
tourisme@agglo-haguenau.fr
www.visithaguenau.alsace
@visithaguenau #visithaguenau

Article written by:
the Tourist Office
of the Land of Haguenau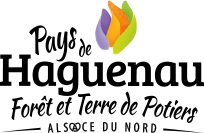 The team of the tourist office is at your disposal to help you prepare your stay in the Land of Haguenau or to suggest activities during your holidays. Come and discover an authentic territory with its crafts, its forests, its Alsatian traditions ...