From authentic Alsace to atypical Alsace
After several stays and getaways "with us", Céline from the blog "A Girl In Alsace" fall each time a little more under the spell of this destination… She tells you why Haguenau is the ideal starting point for a discovery of authentic Alsace but sometimes also, off the beaten track.
Testimony...
Far from the classic discovery circuits of Alsace, about thirty minutes from north of Strasbourg only it is a Authentic Alsace et warm that I discover each time a little more. Ideal for a quiet weekend in the countryside, northern Alsace reveals many surprises and deserved really let's go linger.
Betschdorf, authentic pottery village in Northern Alsace
Betschdorf is a village typical of northern Alsace located in the hollow of one of the many hills in the area. In fact, here the scenery are hilly and offer magnificent views of the forests and farming lands. sunsets have to be beautiful ! During a walk or bike ride, take a walk in Betschdorf but don't be surprised, here there are no colorful houses like those you usually find on the Alsace wine route. The houses are for the majority of White color, but they do not lose their charm however! They form a whole that reveals better than ever the half-timbering and geraniums at the windows. This is the case for many other neighboring villages, still a little further north, such as Hunspach et Seebach for example.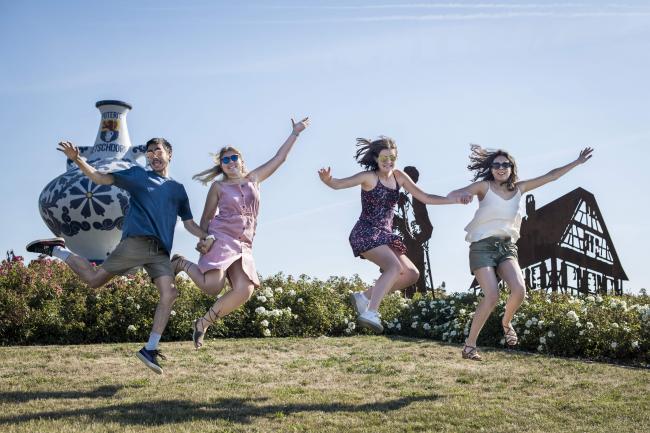 Visit to a potter's workshop
Betschdorf is known for its pottery from Alsace ! Attention, it should not be confused with the Soufflenheim pottery, because they each have their own characteristics and their functions. It was during my visit to the workshop de pottery REMMY MM that I was able to realize. Here the pottery is of cgray and blue color, salt stoneware pottery, intended to be containers of service or conservation (oil, vinegar or even beer jug). They made it possible to preserve very well the pickles or to ferment cabbage for sauerkraut.
A Soufflenheim, pottery will be more colorful and used for cooking food, like the mold Baeckeoffe or even the mold Kougelhopf. A nice surprise to see in theworkshop at the back of the shop, that these potteries are still made by hand in respect of the local tradition. more parts artistic and modern, come to mingle with traditional pottery to offer a wide choice for visitors.
The Rhine and its hidden treasures: Offendorf, an atypical Rhine village
Ma next step take me to Offendorf, a village I didn't even know existed! Here we forget the Alsatian clichés, this village atypical Oh good other hidden treasures to offer us: Rhine and its green nature. It's at the water sports, little piece of heaven to boaters, that I have an appointment for a boat trip.
A real change of scenery towards a of the largest locks in France, the lock of Gambsheim. And say that Strasbourg is only 15 minutes !

Offendorf, city of boatmen
The village was marked by the shipping like many Rhine villages. I invite you to take a look at shipping museum which could not be found anywhere else but... on a barge ! Immediate boarding to discover life on board ships on the Rhine.