It's happening in Haguenau!
May 19 is an important date, which will allow us to resume "a little" our habits and our activities. Haguenau and its economic players, its professionals, its tourism providers are ready to welcome you!
To seduce you, to amaze you and to offer you lots of surprises!
Entertainment galore!
60 bars and restaurants : our restaurateurs widen and extend their terraces while respecting health security constraints, 2 seats and 200 cafes offered to customers of the city's merchants
250 shops ready to welcome you and present their new collection
The second hour of parking offered in the car parks at city gate
De big smiles with the exhibition "Young people around the world"to the four corners of the city
A town decorated and flowery with a lively city center:
Rosalies to go to the discovery of downtown Haguenau : Simone, Marcelle, Germaine and Marguerite are all waiting for you Wednesdays, Saturdays and Sundays in front of the Tourist Office from 14 p.m. to 18 p.m.
Personalized traveling shows and marching bands
Personalized entertainment for children
News guided tours and unusual walks with the Tourist Office
A brand new exhibition at Baggage Museum, with 200 exceptional pieces to discover
Educational workshops and a contemporary art exhibition at Historical Museum
Aperitifs concerts ... and many other things to discover on www.sortirahaguenau.fr

Article written by:
the Tourist Office
of the Land of Haguenau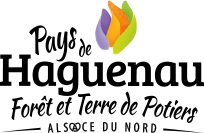 The team of the tourist office is at your disposal to help you prepare your stay in the Land of Haguenau or to suggest activities during your holidays. Come and discover an authentic territory with its crafts, its forests, its Alsatian traditions ...